There is a lot riding on the shoulders of your security operations team - protecting the organisation's reputation, safeguarding sensitive client information, and ensuring the business is able to deliver products and services.
When security teams are stretched to the limit, LogRhythm Axon helps lighten the load to make their lives easier. It's designed to reduce the burden of managing threats and the operating infrastructure, helping security teams prioritise and focus on the work that matters.

Interested in finding out how?
LogRhythm Axon Data Sheet
A cloud-native SaaS SIEM platform, it's built for security teams that are stretched thin by overwhelming amounts of data and an ever-evolving threat landscape. It's optimised for the analyst experience so its intuitive workflow gives them contextual analytics into cybersecurity threats to cut through noise and quickly and secure the environment.
This data sheet will answer a lot of your questions. If you have any more, you can book a Clinic session with one of their specialists.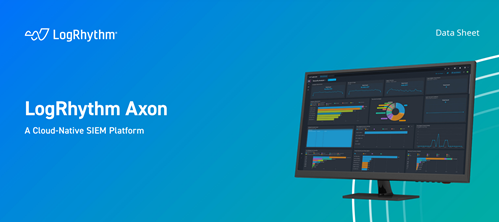 Download
About LogRhythm Axon
LogRhythm Axon offers a cloud-native SaaS SIEM platform. It blends the advantages of both SaaS and cloud-native approaches, freeing security teams from infrastructure management to focus on threat detection and response.